Pro Rider Watercraft Magazine is once again thrilled and honored to have had the opportunity to work with major industry leaders, event promoters, photographers and brilliant authors in the creation of this year's September/October issue and in celebrating the innovation of new PWC technology, events and the shared passion for all things personal watercraft.
The 2017 September/October issue money shot goes to multi-time world and national champion Chris MacClugage and Yamaha WaveRunners! This image was captured masterfully by the lens of Yamaha WaveRunners photographer Bernardo Nogueira who was on site at the 2017 AquaX racing event in Is- lamorada, Florida. Chris MacClugage held a 40-point lead heading into the Islamorada round and landed a hat trick finish, sweeping all three motos atop his Yamaha GP1800. The Yamaha DNA stretches across the entire WaveRunner lineup, from the entry-level EX to the highest performing GP 1800. Read all about the 2018 Yamaha WaveRunners line-up in this issue of Pro Rider Watercraft Magazine!
More exciting features include the latest details on the new Tigercraft pro hulls, The Victor Project, racing action from P1 Aqua X, HeyDay Pro Watercross National Tour, Jettribe Racing Best of the West Tour, Bud Light Jet Jam 2017 Tour, Akropolis Jet Raid, Nautiwater Racing, free ride and freestyle action from the Grayland Open, European Freestyle Championship and more. Don't miss this issue's Future Threats, social media top spots, Gear Giveaway Photo Contest presented by Kawasaki, Fitness Tips, and product reviews from Works H20 Designs, Aqua Sport Performance, Amphibian USA and more!
Visit Pro Rider Watercraft Magazine on Facebook, Instagram at @proridermag, and online at www.proridermag.com for news, announcements digital issue access and extras!
Please be sure to take a moment to visit our advertisers in person or online.
We hope you enjoy the 2017 September/October issue of Pro Rider Watercraft Magazine!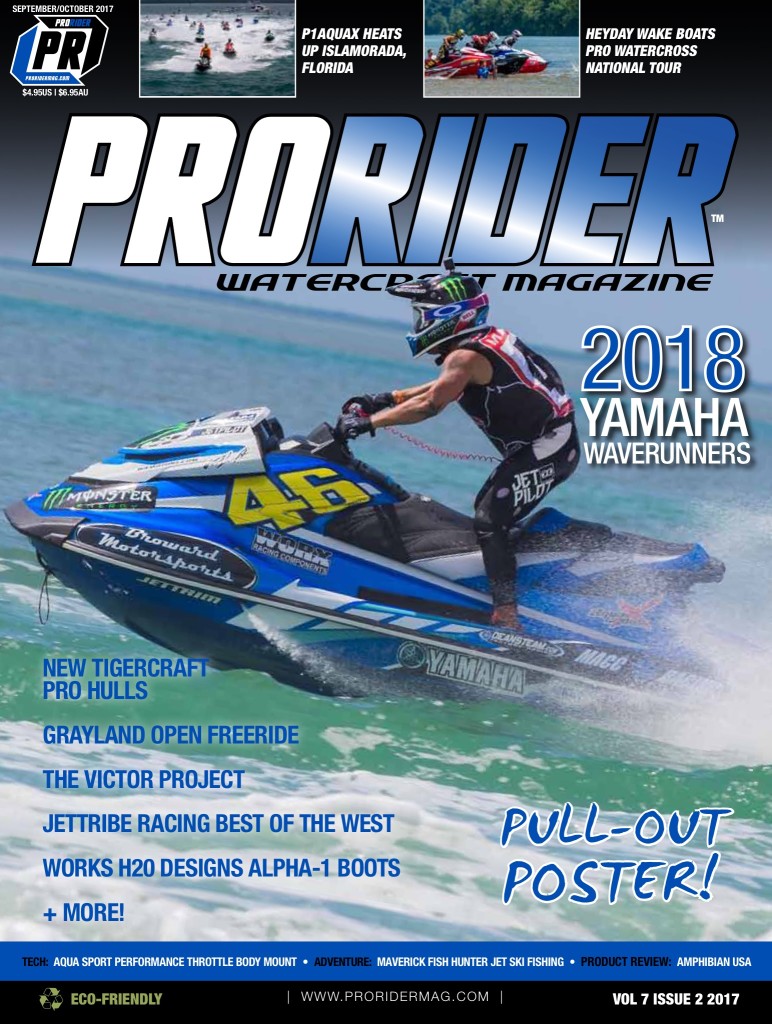 Like, Tag & Share!
---
Read More:
http://www.proridermag.com/chris-macclugage-and-yamaha-waverunners-to-be-featured-on-septemberoctober-cover-issue-of-pro-rider-watercraft-magazine